The quant explained why the Nasdaq's recent retest of critical support levels could help Bitcoin reverse its trend.
Nasdaq-100 recently retested critical support trendline
As analysts pointed out in a CryptoQuant post, the Nasdaq-100 is now above its historically significant support line.
The Nasdaq-100 (NDX) is a stock market index containing 102 equity securities issued by the 101 largest non-financial companies (based on market capitalization) listed on the Nasdaq Stock Exchange.
Here is a chart showing how this trendline has acted as an index price bounce over the past decade.
The value of the asset seems to have touched this line recently | Source: CryptoQuant
As you can see in the graph above, NDX price has been supported by this trendline five times since 2010. In each of these instances, the line restrained the index's decline and reversed as a result. Back up.
Recently, the Nasdaq 100 Index approached this trendline again and is currently above it.
Quants note that this retest could have been the end of the latest downtrend, as well as the return point of the bullish trend.
However, if the trendline is lost instead, it indicates extreme strength in the downtrend and suggests further drawdowns in the market.
At the same time, Bitcoin is also testing the support line, as analysts highlight on the chart.
Looks like BTC is also just above a support trendline right now | Source: CryptoQuant
Over the past year or so, Bitcoin has been shown to be highly correlated with the stock market. The reason behind this correlation is the rise of institutional investors who treat cryptocurrencies like risk assets.
Quants believe that if a retest of the current support in the stock market proves successful, BTC could also see its own reversal due to its correlation with equities.
bitcoin price
At the time of writing, Bitcoin's price rose 1% last week and is hovering around $17.2k. Over the past month, the value of cryptocurrencies has decreased by 7%.
Below is a chart showing the price trend of the coin over the last 5 days.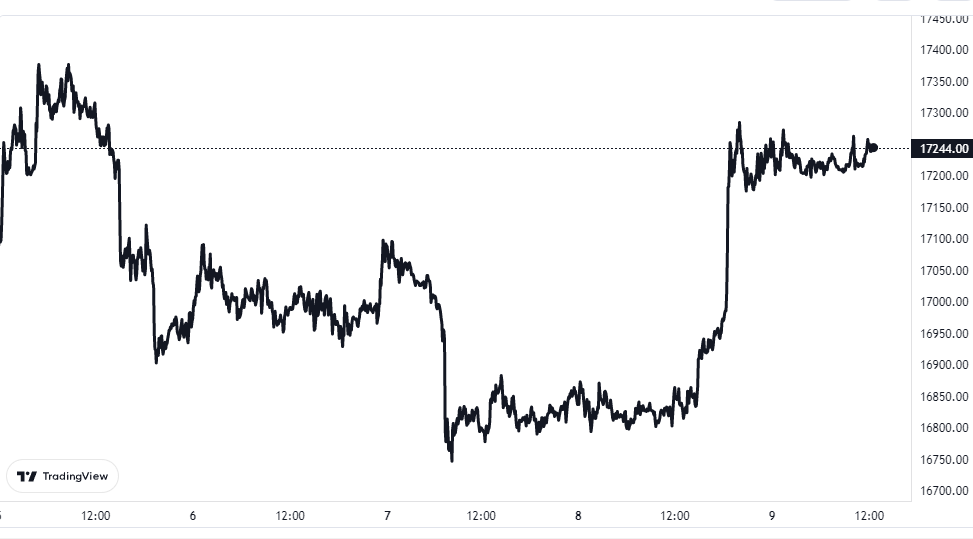 The value of the crypto seems to have observed a sharp surge to $17.2k over the past day | Source: BTCUSD on TradingView
Featured image from Maxim Hopman on Unsplash.com, charts from TradingView.com, CryptoQuant.com