On-chain data shows that Bitcoin whales have been shaving their holdings in recent weeks, suggesting that the current low may not be attractive enough for them.
Bitcoin whales continue to sell despite recent deep lows
As analysts pointed out in a CryptoQuant post, the number of investors with balances in the 1,000-10,000 BTC range has continued to decline recently.
The relevant metric here is "UTXO Count – Value Bands", which shows how many UTXOs (or wallets) are currently in each Bitcoin value band.
These value bands are groups that define the range within which UTXO balances fall within that band. For example, the 100-1k BTC value band includes all UTXOs (or wallets) that currently have between 100 and 1,000 coins.
The value range of interest in the current context is the '1k-10k BTC' group. Below is a graph showing how the UTXO counts in this bin have changed over the past few months.
Looks like the value of the metric has taken a hit in recent days | Source: CryptoQuant
As you can see in the graph above, Bitcoin UTXO counts in the 1k-10k BTC value band show a sharp decline over the past month.
Wallets with such large balances usually belong to whales. This means that the holdings of these giant holders have decreased over this period.
This latest overall drop follows a crash caused by the collapse of crypto exchange FTX. This means that the whale sold the coin while the price was hitting a low.
Historically, whales have shown accumulating behavior when bear markets bottom out. Recently, however, instead of seeing an increase or even sideways movement, the UTXO counts in this whale range have been strangely decreasing.
This trend may indicate that whales are not yet attracted to the current lows.
BTC price
At the time of writing, Bitcoin's price rose 1% last week and is hovering around $17.2k. Over the past month, the value of cryptocurrencies has decreased by 7%.
Below is a chart showing the price trend of the coin over the last 5 days.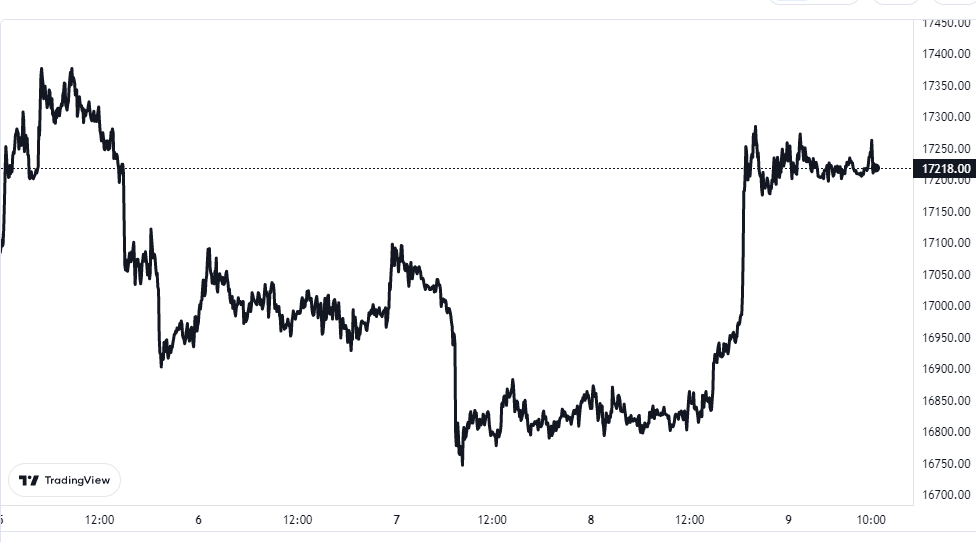 The value of the crypto seems to have seen some rise during the past day | Source: BTCUSD on TradingView
Bitcoin has recently leveled off near $17,000, but at this point it's unclear when the virtual currency will return to real volatility.
Featured image from Thomas Lipke on Unsplash.com, charts from TradingView.com, CryptoQuant.com